I've been thinking recently about the desire to pin down text like a struggling butterfly impaled on a collector's needle. At a meeting with a newspaper editor it struck me first- a journalist's necessary urge to 'find the story', as thought it can be separated from everything else. It hit again in a meeting with my masters supervisor- I need to articulate the central question that I am trying to answer through the story that I am currently (physically) writing. M was very good at this sort of thing- he could peel a text like an onion until he thought he had found its core, and wouldn't stop until he did. But I can't do it. Not for this story at least (not ever, I don't think... could this be a problem??)
I have tried to narrow it down, and this is what I am left with.
The story is about:
metamorphoses
..... and...
the life cycle of the
moth
.... and this quote from Cixous,
"the
painter
is the one who takes the
model's
life" and consequently...
"The Oval Portrait" by Edgar Allan Poe, and so...
...creation/birth/death...
If music be the food of love...
and so the
'mythomania'
of love... romance... dancing... dining...
talking back to Tennyson...
...
journeying
... on and on... and on... what happens in the time between awakenings...
Sapsorrow
, the Russian
folktale
...
my grandparents...
new
epics
...
Lizzie and Dante... Enid and Gereint...
...imagination/creation/inspiration...
and this painting by Rossetti...
and this sketch by
Lizzie
...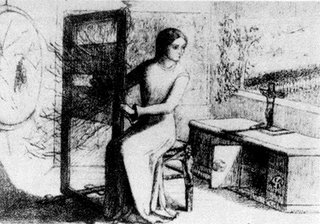 and these words, by Margaret
You fit into me
Like a hook into an eye
A fish hook
An open eye.
See? I narrowed it down, though my jabbing
pin
has missed the
bu

tt

er

fl
y
...